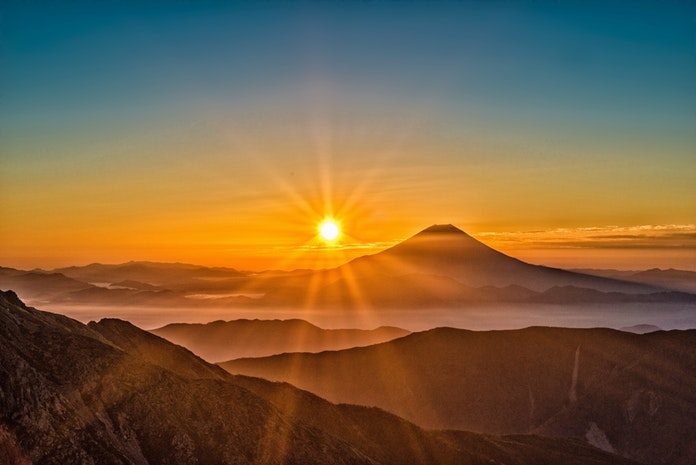 S današnjom totalnom pomrčinom Sunca (2. srpnja/jula u Raku, 21:15), ovaj mlad Mjesec (02.07. u 21:17) dobija jedan dodatni naboj, ukazujući na početke kao posljedicu preokreta, potencijala okolnosti koje nas mogu uhvatiti nespremnima, možda nas čak i "baciti na koljena". Uz ovaj mlad Mjesec, 31.07. dogodit će se još jedan, u Lavu. Dvije prilike za novi početak u samo mjesec dana? Više nego dobro!
Totalna solarna eklipsa ili potpuna pomrčina Sunca 2. srpnja/jula u Raku na neki je način vrhunac planetarne energije u ovoj 2019. godini, tim više jer će dva tjedna nakon nje, 16. srpnja/jula uslijediti i pomrčina Mjeseca na osi Rak/Jarac. Kako se pomrčine uvijek događaju u blizini mjesečevih čvorova (sjeverni i južni mjesečev čvor), u vrijeme potpune pomrčine Sunca 2.7. u 21.15h Sunce i Mjesec će biti na 10:37 Raka, udaljeni nešto više od 7 stupnjeva od sjevernog mjesečevog čvora u Raku. Na nebu će biti vidljiv mlad Mjesec, a to je uvijek vrijeme za nove početke, za kreiranje i postavljanje namjera, kao i za projekciju želja koje želimo ostvariti i manifestirati.
No, vratimo se pomrčini. S obzirom na to da su čvorovi na okosnici Rak – Jarac područja na kojima su preokreti mogući u razdoblju od dva do šest mjeseci nakon pomrčine tiču se tema obitelji, doma, roditeljstva, sigurnosti, ponajprije one emocionalne, brige i njegovanja što su sve teme koje su vezane uz energiju znaka Raka. S druge strane su: odgovornost, financijska sigurnost i karijera, ambicije, granice, što su sve područja s kojima je povezana energija znaka Jarca. A kako je u ovom znaku još uvijek i planet Saturn koji će se u pomrčini Mjeseca 16. srpnja naći u blizini južnog mjesečevog čvora, zajedno s Plutonom, teme se svakako tiču i pitanja kontrole i moći, u odnosu na naš osjećaj sigurnosti (Rak).
Sjeverni mjesečev čvor koji sudjeluje u nadolazećoj eklipsi u Raku tiče se budućnosti, južni mjesečev čvor uvijek je vezan uz prošlost, stoga se može zaključiti kako je pomrčina okidač i nekih kolektivnih promjena jer, na sam dan pomrčine, planet Mars bit će na samom početku znaka Lava u kvadratu s Uranom, noseći energiju erupcija i potresa koji se ne moraju nužno manifestirati u doslovnoj formi već kao društveni i/ili politički potresi koji ponajprije zahvaćaju društva i zemlje s naglašenim kardinalnim svojstvima (Rak, Jarac, Ovan, Vaga).
Naravno da krute i tradicionalne strukture te centri moći (financijske, gospodarske, političke elite) ne žele promjene, štoviše, upravo suprotno, namjera im je dodatno otežati slobodu, neovisnost, progresivnost svim onim strujama koje su, svojim težnjama, opasne po njihov opstanak.
Stoga će energija ove eklipse dodatno otvoriti vrata iseljavanju, kao izrazu težnje za osobnim integritetom onima koji su svjesniji važnosti autentičnosti i integriteta, onima koji žele biti tko uistinu jesu, bez obzira gdje im je dom. Biti svjestan vlastite vrijednosti, stati iza vlastitih načela i biti u vlastitome centru, bez obzira na vanjske okolnosti prateći su darovi samo-osviještenosti, evolucijske uzlazne linije koja prati životne puteve sve više ljudi. Bez obzira na kulturu iz koje dolaze.
Ono kad je cijeli svijet vaš dom i kad ste, ma gdje bili, uvijek doma, izraz je duše koja se vraća vlastitome izvoru i koja sve manje traži sigurnost o okrilju nacionalnog, vjerskog ili nekog drugog kolektivnog pripadanja. Biti u sebi i sa sobom i ne dopustiti da vas povuče energija izvana, ponajprije ona koja sužava, zatvara, izolira, energija straha, otpora, vanjskih autoriteta kao nametnutih zaštitnika, to jest unutarnja točka sigurnosti koju je teško pomaknuti. I milimetar.
U vrijeme pomrčine Sunca dosta je planeta u svom retrogradnom hodu (Saturn, Jupiter, Neptun i Pluton, a od 7. do 30.07. i Merkur). One ne samo da vraćaju na neke prošle lekcije, te aktiviraju iznova nedovršene situacije iz prošlosti već ukazuju na potrebu za dubljim i introspektivnijim pristupom. Tek od sredine listopada/oktobra većina će tih planeta iznova ići direktino pa će se dosta toga što je zaglavljeno i odglaviti ili riješiti. Iznova, kako globalno, tako i na osobnim razinama, u našim osobnim životima.
Nadalje, Jupiter u Strijelcu i Neptun u Ribama, oboje u svojim sjedištima, preko aspekta kvadrata ukazuju na prenaglašeni optimizam, pretjeranu idealizaciju, grandiozne snove i idealizam bez granica što sve skupa može voditi u krive odluke, zbog velikih očekivanja a nedovoljne uzemljenosti. Svakako bi bilo dobro prisjetiti se što ste radili i što vam se značajno događalo od kolovoza/augusta 2009. do sredine veljače/februara 2011. kada su mjesečevi čvorovi zadnji puta bili na okosnici Jarac-Rak jer to će biti teme koje će na nekim razinama iznova imati svoju manifestaciju, nešto kao ponavljanje ciklusa, no vrlo vjerojatno s drugačijim ishodom.
Pomrčine Sunca jesu katalizatori promjena, nerijetko toliko intenzivnih, neočekivanih i pomalo šokantnih da nas nerijetko dočekaju nespremnima. Čak i kad je riječ o krajnje pozitivnim promjenama. Znate ono: onome tko nije ima novaca otvara se mogućnost da ga ima, tko ga je imao, može ga izgubiti, ili pak ono kad godinama pokušavate dobiti dijete i, odjednom, u roku nekoliko tjedana ili mjeseci to vam se dogodi, ili ono kad godinama nikako ne izlazite na "zelenu granu" s poslom i onda odjednom evo vam ponude ili opcije koja mijenja sve. Iz korijena.
Isto vrijedi i za partnerstva. U čije ste se veze i brakove mogli zakuniti kako su skladni, preko noći se mogu raspasti a onaj tko je godinama bio solo preko noći nalazi srodnu dušu. Sve ovo, da se razumijemo, ponajprije se tiče onih rođenih u znaku Raka (osobito vas rođenih do cca 10. srpnja), Jarca, Ovna i Vage, ali i onih kojima su u zoni oko 10 stupnjeva Raka/Jarca smješteni Mjesec, ascendent ili neki drugi važan osobni planet ili os natalnog horoskopa.
I zato, prepustite se svemu novome, bez straha i otpora, otkrijte s kim ste povezani, kamo pripadate i koje je vaše "pleme", ostavite se poroka (cigareta, na primjer) kao svojevrsnog zaloga za novi početak zdravijeg života. Sve ono što je emocionalno u vama mjesecima i godinama ranije raslo, i sad je toliko nabujalo, pomrčina će iznijeti na površinu (osobito pomrčina Mjeseca koja se događa u vrijeme punog Mjeseca 16. srpnja).
Neke od tih promjena mogu biti pomalo šokantne, stoga im davati neke negativne predznake nema smisla jer će u svemu tome biti sjeme nečeg potpuno novog, nekog značajnog preokreta koji vas uvodi u potpuno novi životni ciklus, s novim temama, drugačijim iskustvima na putu osobnog rasta. Uloge se mijenjaju, kao i rekviziti na pozornici i, na nekom životnom području, kreće u potpunosti novo poglavlje.
Stoga, u vremenu od 2. do 16. srpnja/jula intenzivirajte namjeru, pojačajte želje u smjerovima kojima želite preokret i promjenu jer ta dva tjedna Mjesec raste a s njim raste i sjeme koje sijete. I budite u središtu sebe koliko god je to moguće, autentični kakvi jeste, uz integritet i vjernost vlastitim načelima s jasnom spoznajom da vrijedite. I kao biće i kao osoba i kao netko tko će tek pokazati što još jest i što još sve može.
Tako jasna namjera utisnuta u energiju ovih srpanjskih eklipsi ne može se ne ostvariti.
Goga Kovačević, zvjezdarnik.com